Crowd marketing is a tool for managing reviews and recommendations to attract a targeted audience to your site. Further, you can offer visitors products or services, expanding your own business. In this article, we've covered the concept, types and strategies that allow for the most effective use of such links.
Why should we use crowd marketing?
In everyday life, everyone is haunted by advertising: billboards, signs, lightboxes, banners, scrollers, advertising boards and signs. On the Internet one faces different offers, which are often too annoying.
If the user regularly sees advertisements for one product, he begins to treat it negatively. Just imagine, you turn on your favorite TV series, but first you have to watch at least 10-15 seconds of commercials. Lately, there are 2-3 of the same commercials in a row.
Important!
Banner blindness is widespread on the Internet. A person is so often caught by banners that he simply stops noticing them. There're even programs that allow you to hide ads.
This is where crowd comes in – this is hidden or guerrilla marketing, which uses links on forums, in the comments and Q&A services. It resembles telling one customer's product to another. The absence of a direct offer doesn't cause aggression, so a person is more likely to use your product/service.

The greatest effect with the help of crowd promotion can get the owners of online stores and any services that require a thorough study by the customer. In such cases, such links will help:
attract the target audience to the site;
promote the web resource in search engines;
increase brand awareness;
increase customer loyalty.
As part of SEO, crowd marketing helps to increase the number of mentions from authoritative resources, promoting the site in search results. Such recommendations increase the recognition of the company and have a positive effect on reputation.
Before developing a strategy, take into account the labor intensity of promotion. You need to allocate time to search for sites. Be sure to promote the account, because backlinks from a young profile will lead to instant removal of the comment and blocking.
Examples of crowd marketing
Such links are most common on forums and Q&A services. To reduce the risk of message deletion and account blocking, various measures are taken: posting in thematic topics, surrounding backlinks with text, and using unanchored links.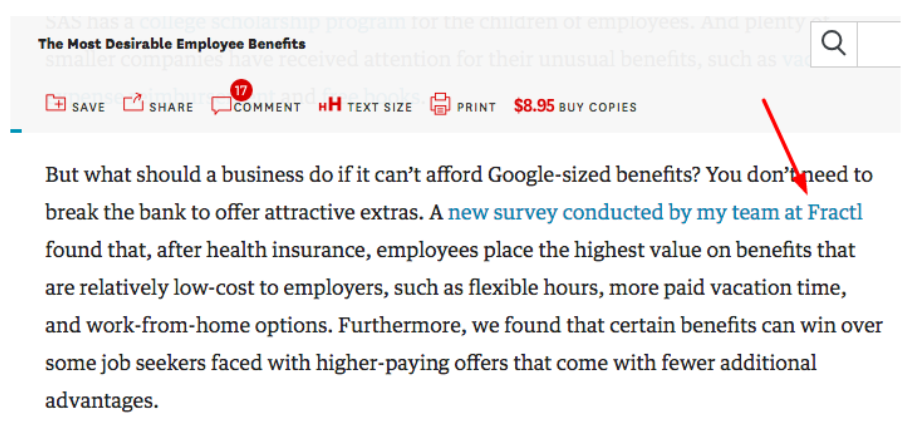 The forums check posts thoroughly, blocking accounts if they find open links. In this discussion, which was created 12 years ago, most of the comments have open backlinks. The thread is at the top of Google's search for "sofa choice forum." This is a prime example that crowd marketing is a tool that works for years without additional investment.
This post was left in December 2018. The link leads to a page with different kinds of laminate flooring, and there is an option to instantly add the product to your cart. The anchor is a "link," which is perfect for diluting a link profile.
What is the difference between crowd marketing and link building?
Most people confuse the two concepts. Link building is aimed at raising a site in search results for a specific group of queries. Basically, links to a specific page with a specific anchor are used. For example, the backlink "order crowd marketing for the site" leads to the corresponding page, promoting it in search results.
There are three main differences:
Dilution. Link building focuses on link dilution, while crowd focuses on the entire portfolio.
Promotion. Link building is used to raise the page to the top for specific queries, while crowd marketing is used to improve the position of the web resource itself.
Safety. At the slightest suspicion of buying links, search engines impose filters, which leads to a rapid decline in position. Crowd links look natural, surrounded by useful content, and attract attention to the brand.
In fact, backlinks in thematic articles or pages can also be non-anchor. They can also be used to increase brand awareness and dilute the link profile. Just classic links are perceived as direct advertising, and on forums, in comments and on the services they are almost impossible to distinguish from recommendations.
Types of crowd marketing
If you decide to build a crowd marketing strategy, you need to carefully analyze your target audience. Study the places where potential customers spend the most time.
Example!
It's easier for a cosmetologist to find clients on Instagram. Regular meaningful commenting on thematic publications will attract interested people. Micro-loan services are more effective on forums and in comments to informational articles.
Of the various types of crowd-marketing for content projects, services and online stores can be divided into four: Q&A services, commenting on thematic blogs, forums and review sites. Below we've covered each type so you can incorporate the most appropriate ones into your strategy.
Forums are a dangerous race for crowd links
Don't get it wrong, recommendations from the forums in the thematic sections won't harm your project in any way. The nuance in obtaining backlinks, because the first time you have to actively participate in discussions. You have to earn the trust of users, earn a good rating, and then leave messages with links to your resource without risk.
Tip!
Before working on the forum, check the presence of traffic and regular activity. Look at the users: most of them should be real users, not link builders.
If you are just starting to promote through the forums, follow these tips:
Fill out your profile. Tell them about yourself in detail, so that users will start to trust you. Plus, some forums have a "site" margin where you can leave a free crowd link to your web resource.
Earn a reputation. Backlinks in new users' posts look unnatural. For the first few months, you need to actively participate in discussions. Once you gain a good ranking, start crowd marketing.
Write long and meaningful messages. Try to really help people, then the backlink will look more natural. It will complement the message itself, so people are more likely to click through to the site. The advantage of 300-500 character recommendations is that they also stand out against smaller comments.
Forums remain a place where thousands of people are united by one topic. If you know how to filter information, you can find a lot of useful content on them. To attract customers, you just need to become someone who helps users. You will pursue your own goal, but on the face of it, such posts with links are free help that people appreciate.
Commenting on thematic blogs and sites
Only a few people leave comments under an article, even if they liked it. By ignoring this part of crowd marketing, the owners of web resources miss out on free links from authoritative sites, the target audience, and potential customers.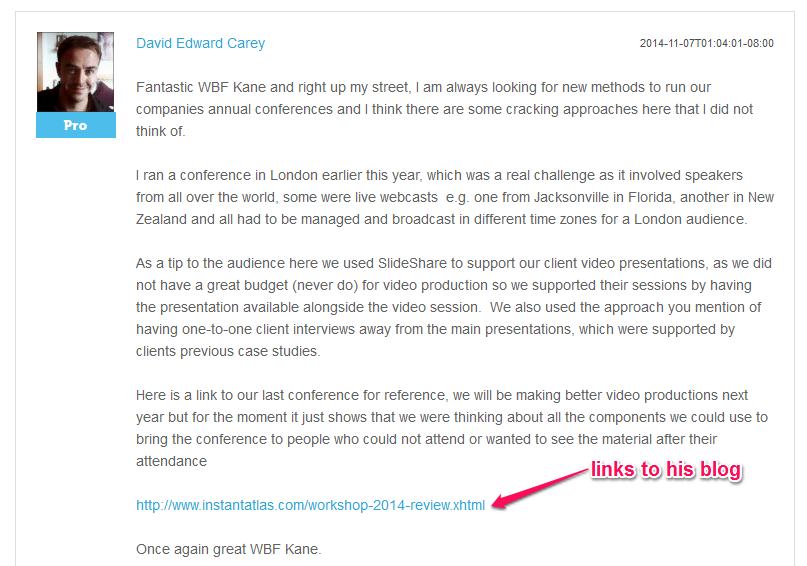 In 2022, this kind of crowd marketing became popular again, especially for increasing a company's awareness. Some site owners purposely don't close links in comments, trying to increase activity in some way.
There are two ways to use comments:
Crowd marketing with your own hands. You find sites yourself, evaluate pages, choose appropriate posts and leave messages on them. This method is time-consuming and doesn't allow you to consider all the criteria.
Automation of the process. With the help of special software there is an opportunity to speed up the process, saving time on the selection and evaluation of sites.
If you decide to leave a comment on the first site you see, you will have to accept the absence of any effect or deterioration of the link profile. We are talking about cases where you put the URL of your web resource in the appropriate margin.
Above is an example of how you shouldn't act. The owner of this site wrote meaningful comments, put a link to his resource in the appropriate margin, but some sites were on a different subject.
As a result, the link profile is divided into two parts: organic backlinks – 50%, SEO crowd marketing – 50%.
This is an example of a personal site. The owner occasionally commented on blogs with similar themes. Links to the home page were placed in the appropriate margin (name, email, site), but there were no backlinks or mentions of the brand in the comment itself.
The project continues to get targeted visitors even from the comments that were posted as recently as last year.
That is, commenting on thematic blogs and sites does work. But you need to pay special attention to the selection of sites, otherwise such recommendations will negatively affect the reputation of the brand and visibility in search engines.
Is it effective to use Q&A services?
In most niches, search results for low-frequency queries are literally flooded with pages of Q&A services. Such sites are designed so that users can help each other. They effectively and safely advise your own products.
Important!
While Q&A services are crowding out smaller web resources, we're using them for SEO crowd marketing. You will need to take the time to become an active participant in thematic discussions, answering users' questions and leaving links to your site.
Review sites are direct advertising of a product
On such sites you can leave a review about almost anything. If your product is even slightly in demand, and there are several reviews about it online, then advertising won't raise the suspicions of the moderators and users.
Use recommendations to increase brand or product awareness. Crowd links should be placed carefully, because there is a high probability that the recommendation will be deleted and/or the account will be blocked. If you want to get new backlinks, dilute your link profile, then it makes more sense to post comments on thematic blogs and forums.
3 effective crowd marketing strategies
Search engine algorithms are constantly changing, so website owners must adjust strategies instantly. In 2021, crowd marketing is an effective tool for replacing less reliable links, which are rental links. It's safer and allows you to build a positive reputation around your company.
Every year, the budget for crowd marketing grows rapidly. This is due to the preference of large companies for reliable methods of promotion, the need to increase brand awareness, and the lack of worthy alternatives. But to get the desired result, you need to choose the right strategy or compose it from scratch, based on the examples below.
The classic use of crowd links
They are used to help people, to attract their attention to the promoted product, to get a quality recommendation. If you include it in the complex of works, you can observe an increase in positions and sales.
To achieve the effect, do the following:
Highlight specific pages, services or products on your own site.
Find thematic discussions. These can be comments under competitors' articles, threads on forums, discussions on Q&A services.
Create an account. Tell people about yourself in as much detail as possible so that they can trust you.
Help a user. If there's a question then answer it. If there's a problem, then help solve it or share your experience. Mention your own product or company, post a link or just enter the name.
Participate in the discussion. It's a huge mistake to ignore a posted comment. You need to maintain your message even after publication, so respond to comments regularly.
While using this crowd marketing strategy, you may run into the problem of not having enough specialized sites. If you run out of topic threads, then expand your target audience or develop conversations on your own.
Creating a dynamic link profile
For SEO, crowd marketing is a great way to increase backlinks for free or with minimal monetary investment. As a result of properly done work, you will create a dynamic link profile, increase your visibility and traffic.
Important!
It differs from classic crowd marketing by weakened criteria to visitors and discussions, focusing on the SEO performance of the site.
The process is:
Look for forums or thematic blogs that allow you to leave a link.
Write a comment. If you work on a forum, you should first promote your profile, earn a rating, and then participate in discussions. Thematic blogs with the opportunity to leave a link in the comments is difficult to find, but the time spent will pay off.
Place a link. On blogs, there can be a separate margin or an opportunity to leave a backlink directly in the comments. On the forum, the link is placed in the profile and in the posts themselves.
No need to worry if you get a closed link. You'll get targeted traffic due to a mention on an authoritative site. If the recommendations are open, you will be able to improve page indexing, dilute and secure your link profile, and increase your visibility in search engines.
SERM – reputation management in search engines
Crowd marketing is one tool that is actively used to build a trustworthy brand. You have to reduce as much as possible the negative feedback that can come from both real customers and competitors.
The process of using SERM is almost identical to other strategies:
Think about positioning. Identify the strengths of the company or the promoted product, so that in the future, it will focus the attention of potential buyers.
Start working with niche platforms. You need to create and actively develop an account in social networks, forums and services.
Prove your credibility as an expert. Answer questions, talk about how your product can solve users' problems.
Most experts believe that Google and Yandex take into account online reviews. SERM will help to highlight the positive feedback from users, improving brand reputation, and with it the position in the ranking.
Is it worth ordering crowd marketing for a website?
You can do crowd marketing on your own, devoting all your time to the process. You will have to find sites on your own, evaluate each one, and select a few of the most suitable ones. It will take about a month to create an active profile that can place a link in posts without obstacles, as long as it looks as natural as possible.
It makes more sense to order crowd marketing for an online store, a content project, a one-page or other site. We have the understanding of the process, proven strategies and promoted accounts.
A crowd link will allow you to achieve the desired result:
increase the awareness of the company/good/service;
improve search engine rankings;
attract potential buyers;
Making crowd promotion of a project, we place links on high-quality thematic sites. As a result, you save time and effort, while we attract potential clients and increase the company's profit. Order crowd links from our manager ion the page of the service – https://buylinkco.com/crowd-backlinks/